Miss Miami Carnival
While we so busy feteing for
Carnival we dont even realise that other events take place for the Carnival
weekend.
Did you know that there is a Miss Miami Carnival Competition? Hosted by Caribbean Pagaentry, Inc. This is their third year hosting this event where contestants have to appear in different outfits, a costume and perform a talent.

These are the 2007 Contestants caught at a Meet And Greet at Liquid Gold Jewelers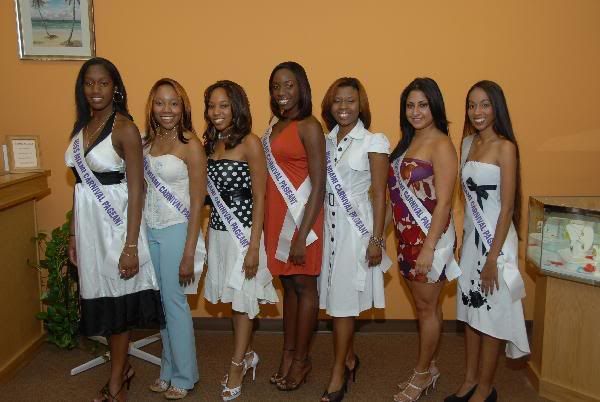 Lets meet the contestants. Walshy leave your comments for the peanut gallery.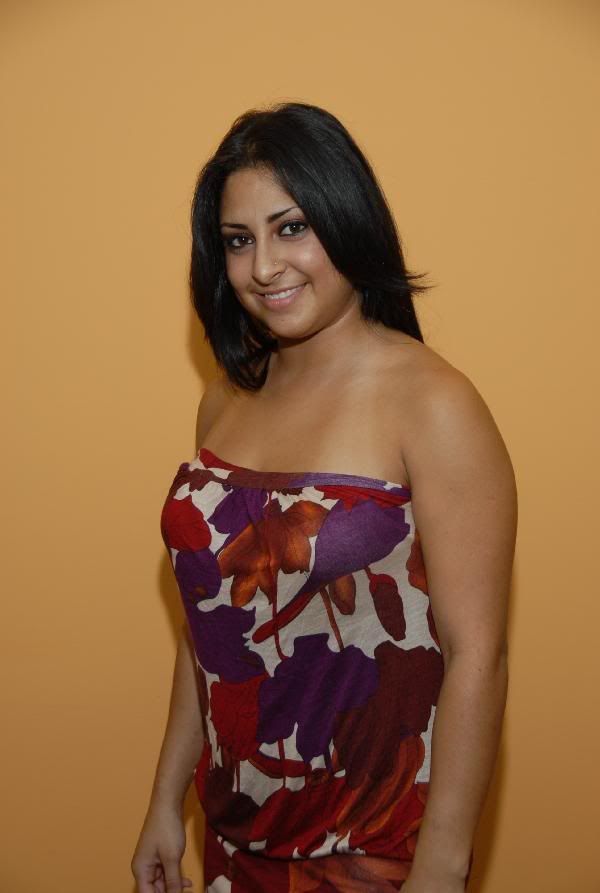 Michelle Abraham representing MAC Intenational

No introduction on website.
Sharon Legerme representing Party room Squad [Jamaica].

As a young women, I define myself as someone who always strives to achieve greatness, you might ask yourself, well who am I? I am Sharon Legerme, a confidant young woman who at the age of twenty-five has completed a Bachelors of Arts in Health Administration, and is now looking forward to working on my Masters in Occupational Therapy. I represent the wonderful island of Jamaica , and my hobbies including reading and knitting. One of my favorites quote to live by is, "the sky is no longer the limit, so reach above.
Sheri Legerme representing Massive Squad [Jamaica].

Sheri Legerme was born in Miami , Fl on November 14, 1981. I carry a substantial sense of pride for my Jamaican heritage and its culture. The interest in learning about other Caribbean cultures has been a big motivation for me to enter Miss Miami Carnival pageant.
I am presently a senior at Florida Atlantic University , majoring in Health Care Administration. One of my future goals is to one day own and operate a chain of long term care facilities in and around South Florida and the Caribbean. Some of my hobbies include shopping, modeling, crocheting, dancing, hanging out with friends, making others laugh, and photography.
My relationship with Christ continues to inspire and encourage me to accomplish my goals in life. I believe that one most "Hold fast to dreams for if dreams die, life is a broken winged bird that cannot fly." Lanston Huges"
Leburnah Liburd representing St. Kitts Cooperative Credit Union Squad [St. Kitts].




My name is Leburnah Liburd, a 22yr old scorpion born and raised in Sugar City St. Kitts. I am a second semester sophomore at Florida Memorial University, with a 3.8 G.P.A and majoring in Finance. Before enrolling at Florida Memorial
University, I was employed as a head teller of the St. Kitts Co-operative Credit Union and a part-time cashier at one of the local supermarkets. Upon obtaining my bachelor's degree, I intend to pursue a master's degree in Marketing. It is my desire to return to my country to impart my knowledge and skill that I would have achieved. Although I enjoy working as much as I do, I still find time to have an active social life. In St. Kitts, I am a member of the Vivace Dance Company which allows me to express myself artistically through body movement. Equally important to me as spending time alone, is meeting new people. Although I strongly believe that zodiac signs say a lot about a person's character, no two people are wholly identical. Therefore, meeting new people for me has become a different adventure every time. While I am at school, I enjoy associating myself with the Caribbean
and International Students Association and the First Lady's Ladies Organization of which I am the treasurer of both. In life, I believe that no one solely accomplishes anything. Therefore, it is wise to be kind to the people you meet on your way up because they're the same ones that you'll meet on your way down.


Sian Maraj representing HRS, Inc. & Sybil's Bakery
No introduction listed on website
Daveile Payne-Abbott representing The Source Antigua [Antigua]
For almost three years now, you have coated these pages with ladies of almost every shape and ethnicity. But it has recently come to my attention that there is a certain Caribbean flavor you have not poured for your pleasure. Enter, the world of 20-year-old Daveile Nicole Payne-Abbott. Born in St. John's, Antigua and raised on the stage since age eleven. This West Indian sunrise has made her mark as Antigua's most optimist petit and talented teen and has enhanced stages in Miami, New York, Nova Scotia Canada, Houston Texas, Barbados, The Bahamas, St.Kitts and her hometown Antigua. At age 20, pageantry, the Arts and public affairs have become over the years a very significant aspect of her life. It has been the key to her traveling as an Ambassador for her country, Antigua & Barbuda, winning titles and awards as Miss Hal jackson Antigua Talented teen and in the Miss Caribbean Talented Teen pageant to name a few, and meeting new people, new cultures, new Experiences! " I have dreams of having my own, dance group, television show, getting my degree in child psychology and medicine and having my own fashion line. Being cast in several films is also on the list. In the process I hope to make the people around me proud. I love to write AND MY DANCE IS MY PORTRAIT. I believe in Love, particularly self love." Attending Florida Memorial University, she has made her mark as a Junior honour student with a major in biology and a minor in psychology. The first Antiguan to be captain of FMU's "Rayz Dancers" and Senator of the Caribbean and International Students Association, two semesters in a row. "The chances of me being the next Miss Miami Carnival is an overwhelming feeling that like my beautiful country could never be described but only experienced. I have a strong demeanor and I am humble that's what I want the judge's to see in me most." Daveile is also a March of Dimes volunteer where she contributes to enhancing the health care of babies. "You don't have to be a phenomenal person to do phenomenal things! Keep God first in your life, through him I believe that it is only then we are truly free. Keep your eyes on the prize, let your heart be your guide and your back to the wind!
Kelina Samuel representing China Mas Group

Hello, my name is Kelina Samuel and I am 17 years old running for Miss Miami Carnival. I am representing China Mas Group in the pageant. I am a senior at Miami Southridge Senior High School. In school I'm involved in cheerleading, which I am the captain for. I enjoy dancing and going out. I'm basically just an all around friendly outgoing person.












More information and pictures can be found on the website: Miss Miami Carnival